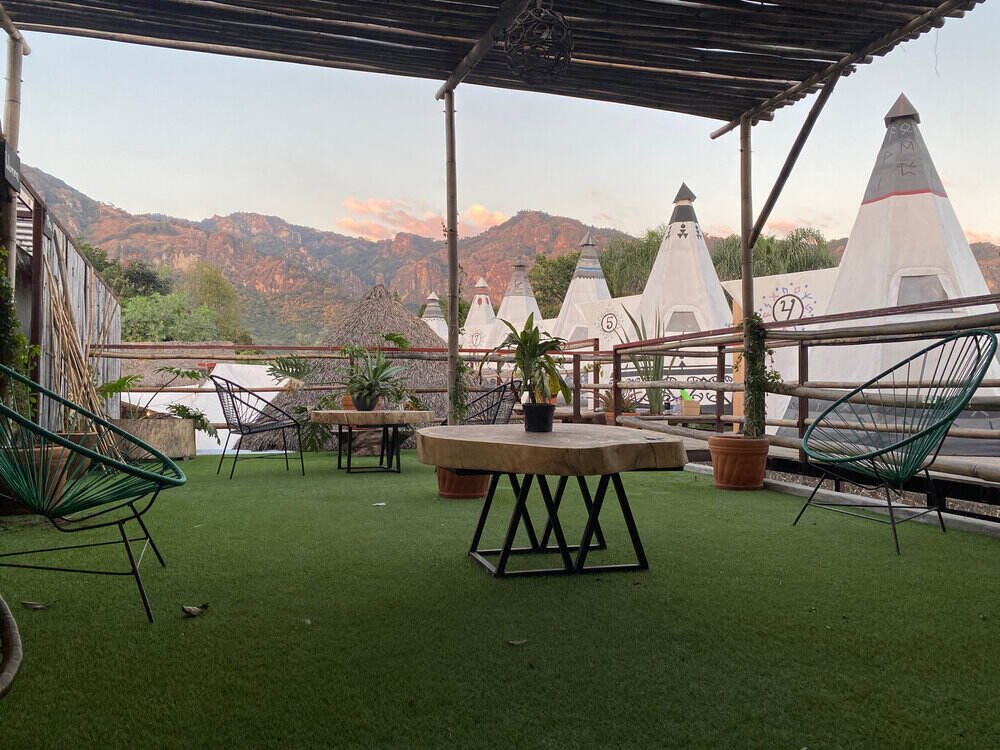 ⚠ Warning! ⚠
This is exclusive accommodation for adventurers!
Bring your biodegradable bug repellent (remember that you'll be sleeping in a mosquito-friendly environment).
There are 9 tipis on top of a metal and wood structure… it moves when someone walks but the view of the mountains and stars is invaluable.
We are on the edge of the main street of the village, you will know the noise of the Tepozteco folklore (dogs, fireworks, parties, etc.).
En la planta baja está nuestro restaurante con un ambiente increíble y música fuerte (cierra a las 11 pm y en eventos especiales hasta la 1am).
Tepoz Tipi is a place for adventurers
We have 9 tipis located a few blocks from Tepoztlán center. Excellent location to get to know the surroundings of the most famous magical town in Mexico.
Everyone Gets For Free:
We have 2 kind of tipi
Inside our tipis you will be able to listen to the rhythm of its habitants and feel the life of this land.
In Tepoz there is a lot to see!
It is an archaeological zone
Where is Hostal Fungi Tepoz Tipis?
We are a few blocks from the center of Tepoztlán, the most famous magical town in Mexico.
Walking distance from the center of Tepoztlán
Fungi Tepoz Tipis Reviews
10/10 great people and the dinners they offer are to die for. If you are looking for a chill spot in Tepotztlan this is the one
Aleck Sifuentes A
2023-05-30
Solo fui a comer pero está muy rico, se antoja ver el hospedaje 😊
Eduardo Arteaga (Lalo Art Dj)
2023-05-29
Personal muy amable, la ubicacion esta muy comoda y los espacios son agradables, en la noche es tranquilo y las camas son super comodas
Fue una buena elección de hospedaje 🙂
Anahí Hernández
2023-05-20
Súper agradable 👌
Muy recomendable! 🥰
esta muy bonito, hay opciones veganas en el restaurante y hay buena música
#FungiLiving
FAQ
What kind of rooms does Fungi Tepoz Tipis offer?
Fungi Tepoz Tipis offers 9 private tipis, 2 big tipis for 2 persons and 7 little tipis for 2 persons max. Each tipi has plugs for your smartphone and all of your gadgets.
What time are check in and check out?
Check in is at 14:00.
Check out is at 12:00.
Is Fungi tepoz tipis for me?
Of course, If you are an adventurous and you want to stay in the heights, this immersive experience in Tepoztlán is for you
What is Fungi Tepoz Tipis?
Fungi Tepoz Tipis is an exclusive hostal near mountain for adventurous at the most famous magic town of Mexico, Tepoztlán.
Can I leave and enter Fungi Hostal at anytime?
Yes, you're free to come and go as you wish if you already did your check in.
What does include my reservation at Fungi Tepoz Tipis?
Our accomodation includes FREE daily breakfast, juice coffee and fruit. Also it includes shampoo and a towel.
Can I cancel my reservation?
Yes, you can cancel according to our cancellation policies:
If you cancel 3 days before your reservation date, we will refund 100% of your money.
If you cancel 2 days before, we will refund 50% of your money.
If you cancel one day before your reservation, there is NO refund.
How long can you stay at hostel?
There's no limit as to how long you can live in a hostel.
Is there Uber in Tepoztlán?
No, there is not Uber, but we have a similar uber service for you.
CONTACT
We'd love to hear from you